The 2019 Big Brother Naija, BBNaija, 'Pepper Dem edition, on Saturday night, witnessed an exciting moment.
This time around, Mercy during Saturday night stripped and exposed her underpant while dancing.
Her recent action stirred reactions from BBNaija fans on social media as some drew a comparison between her and Tacha.
Some Nigerians questioned why Tacha, the Instagram queen who twerks a lot on social media has not exposed her body while Mercy has been caught severally exposing her body.
See photo below;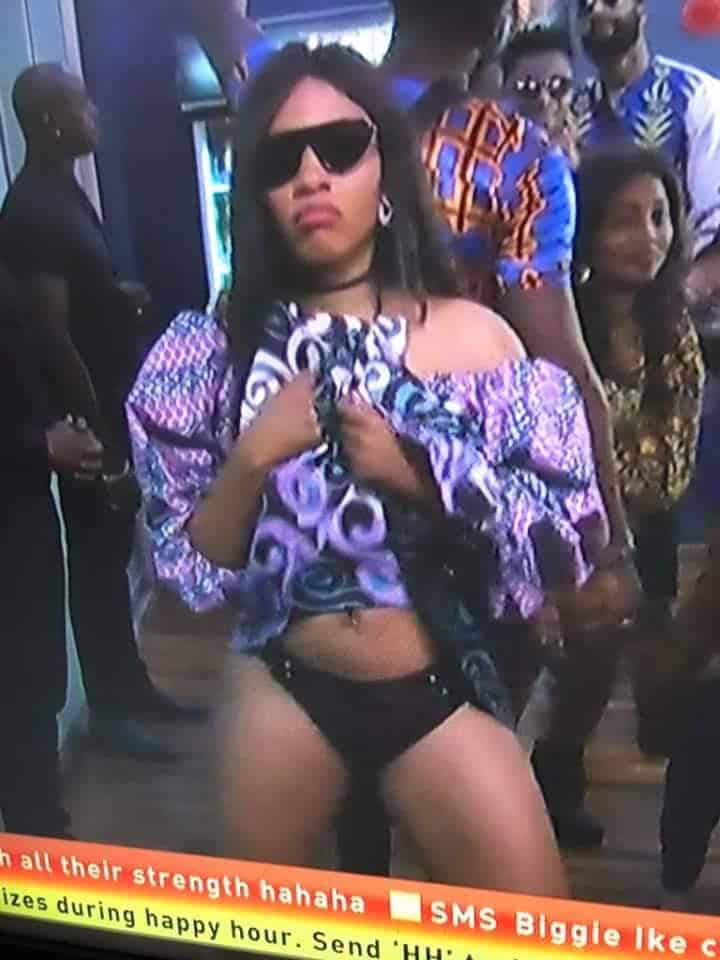 Here are some comments gathered from Twitter:
@ChrisbrownGod "Tacha fans are just bitter tonight, Port Harcourt daughter did not give them anything to talk about so Tacha fans are insulting Mercy for showing her panty."
@Strawapil "Mercy is definitely high. Dj humility got her to this point."
@SharonMissy2 "I'm a Mercy fan but she needs to stop this stripping thing. It's becoming very embarrassing and annoying."
@Slrenuman "if you love Mercy you need to love the full package. the good and d bad side.. that's how fans do."
@Nnenna_Phillip "Yea I know what y'all will do if Tacha does this.So I'm just giving it right back. I guess we can't hide who and what we truly are for long. This is appalling, absolute trash!
@Switsameera"Mercy can be nasty and she's not afraid to show that side. She's not here to form a church girl. I like how she own up to her shit. If you have issues with that, Disney is what you should be watching not BBN cause the show is rated 18+.
@BBnaijanews1 "All of you dragging Tacha into this are just something else. If Tacha exposes her body on IG doesn't mean another lady should do it. You claim Mercy has class and Tacha doesn't but at least she's trying to comport herself in front of the world."
@Unnii18 "Ashawo Mercy. Come and win this money let me see!! Fake Girl ,loose pu*nani. Look at Tacha they called all sorts of names, babygirl has been behaving well unlike olodo Mercy. Bitter soul."
@ShugaTega "Please next time any designer is making their Saturday night party cloth, they should make only pant for mercy. Girl doesn't want all that coverage you giving to her."
@Neo_mngadi "Mercy is drunk AF. She showed her undies."
@Juzkeep "You can see that to wear loose fitting cloth is still harding Mercy.Biggie open door let her go and wear pant and come back abeg.We want to see something."
@Leamarwear "Mercy Oh, sis showed us her black pant."