Muslim female students may now wear hijabs as part of their school uniforms in Nigeria's unity schools, according to the federal government.
The development was contained in a circular dated February 1, 2023, and signed by the Permanent Secretary, Federal Ministry of Education, Andrew David Adejo.
The Site News reports the circular which was addressed to the Principals of all the 112 Federal Unity Colleges and Federal Science and Technical Colleges of the country also gave the specifications on the acceptable type of hijabs to be worn by the students.
It clarified that the students can use corporate/cape-size hijab on any of the approved school uniforms.
According to the circular, "This is to bring to your notice that the Ministry has approved the use of corporate/cape size hijab as part of school uniform by female Muslim students in all the Federal Unity Colleges and Federal Science and Technical Colleges."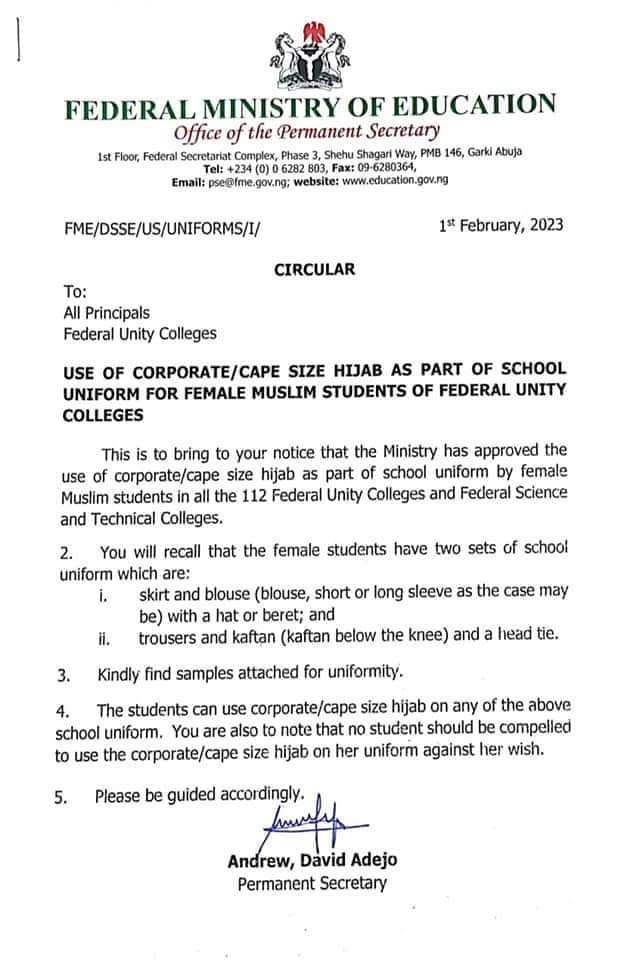 Adejo, however, warned that no student should be forced to use the hijab against her wish.
Meanwhile, back in 2022, Hijab wearing was approved for interested female students across Lagos State secondary schools.
The Site News reports that the Supreme Court gave the approval on Friday, June 17, barring all school management from discrimination and harassment of the female gender from wearing the religious outfit.